You wouldn't know it by reading my 2017 statistics post, but I am actually drawn to slow fashion and minimalism. I read a lot of blog posts promoting slow fashion and find myself vigorously nodding my head at the idea that stashing tons of discount fabric and sewing a garment a week is just a different form of fast fashion. But I also enjoy sewing too much to limit myself to a project a month. I don't have any guilt about the 46 garments I sewed myself last year because I really did need that much clothing, and I wear the overwhelming majority of the clothes I sewed frequently. But going forward, assuming my proportions don't change too much, does my wardrobe really need 46 additional garments every year? I don't think so.
As it turns out, the Itinerant Family will be experiencing some big changes in 2018, and as a result, I've been handed a ready-made set of sewing goals. We are moving to Colombia in a few months! I'll have no choice but to sew fewer garments this year as I'll be separated from my machines for about three months during the transition. We'll be in Bogota for two years for my husband's work.
The impending move has informed my sewing over the last few months, and it will continue to do so through 2018. Although Bogota is only a few hundred miles from the Equator, the city sits at 8661 feet, so it's not exactly warm. But it's not exactly cold either, with the year-round daytime high somewhere around 65F. I assume that I will be wearing a lot of woven button-down shirts (something that I considered as I sewed
all those Bonn shirts
. And I will also need more jeans.
So, Sewing Goal #1: Make one pair of bootcut jeans from the Itch to Stitch Liana pattern that I already bought. Make another pair of skinny jeans, either from the Liana or from the Ginger pattern, depending on how the first pair of Lianas works out.
I know that layering is key in Bogota's climate, so the
closet full of cardigans
I've made over the past two years will serve me well. A few of those were less successful than the others, and I've always been a cardigan lover, so I'm not going to feel bad about sewing more cardigans this year.
Sewing Goal #2:
Make another cardigan before we move, using
McCalls 6996
, which is already in the stash.
Although the weather in Bogota is not particularly warm, apparently the apartments there do not have central heat. Our apartment floors are tile, and there are lots of big windows, so it's going to be chilly indoors. One of the two pairs of pajama pants I own is on its last legs, so I'd like to make two more pairs for myself before we move.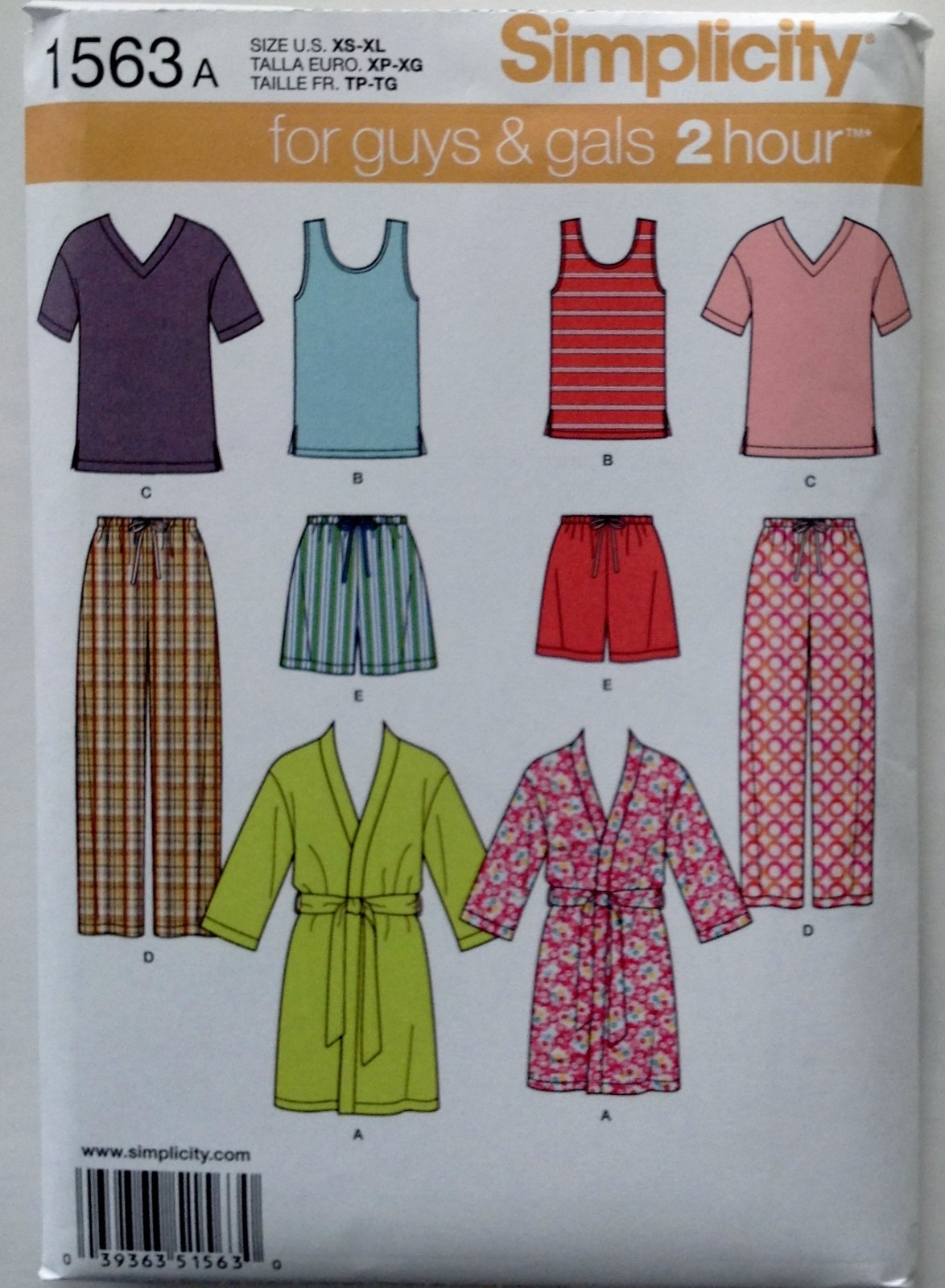 Sewing Goal #3:
I have
Simplicity 1563
in the stash already, so I'll probably use that for at least one pair. I may make a knit pair for the second one; I've previously used
this pattern and tutorial
to make a pair and they are the only pair I have that is still in useable shape.
Sewing Goal #4:
Be more purposeful and restrained in my fabric purchases. I did a major stash purge in March 2017, and after that I vowed to only buy that which I had a plan for within the next couple of months. From March through December, I purchased 31 cuts of fabric, and I've used all or part of 23 of those cuts. In all cases I did have plans to use the fabric within the next few months, but sometimes plans change for valid reasons. For example, in October, I wasn't able to find the dresses I wanted the girls to wear for Christmas this year. So I bought two cuts of silk taffeta on sale from Fabric Mart to make the dresses. But after I did that, the dresses turned up, and the taffeta ended up in the stash. In another scenario, I bought some crepe to make
this pattern
. But when I muslined the pattern, I didn't like it at all on me. I am content with my fabric purchases and usage these past nine months. I'd like to continue this way, instead of buying fabric just because I like it, without a purpose.
That's all for now. I know that my sewing goals will evolve after we've been in country for awhile, and I'm leaving space for those goals. I am sure I will sew more than two pairs of jeans, two pairs of pj pants, and a cardigan before we leave, but I'm leaving room for creativity and impulse. They make sewing fun, and I don't want to sew without them.
Thanks for reading, and I'll see you next time. In the interim, if you know anything about Bogota or Colombia or sewing in Bogota, drop me a comment. I'm all ears!